Hebrew Chant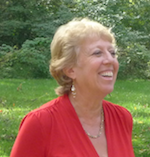 Rabbi Shefa Gold develops and leads Hebrew chants based on Jewish sacred texts for transformative spiritual growth.
With her focus on Hebrew chanting, she teaches the Kol Zimra Chant Leaders' Training program (through ALEPH), presents workshops based on Hebrew chanting and Jewish subjects, and is available for performing services as a rabbi.
Chant is the bridge between the inner life and the outer expression; between the solitary practice and the shared beauty of fellowship.
Upcoming Events
KOL ZIMRA CHANT LEADERS' TRAINING!
Kol Zimra 9 starts July, 2016 in Santa Fe, NM
This is the last Kol Zimra training led by Rabbi Shefa Gold, and as of 6/17/16, is now FULL. Please sign up for the quarterly newsletter (click subscribe and provide your email address) to learn about future trainings and retreats.
At Kol Zimra, we build a Mishkan for spiritual work. The sacred phrase becomes the tool of that building project.
---
Lessons from the River


September 5 – 11, 2016

A rafting (and, of course, Hebrew chanting) trip
down the San Juan River in wondrous SE Utah

Download the Utah River Trip flyer for more information.
---