Rabbi Shefa was selected to be on the 2015 list of America's Most Inspiring Rabbis by The Jewish Daily Forward (forward.com).
---
At Kol Zimra, we build a Mishkan for spiritual work. The sacred phrase becomes the tool of that building project.
— Rabbi Shefa
KOL ZIMRA CHANT LEADERS TRAINING!
Kol Zimra 9 starts July 2016 in Santa Fe, NM
Write to Rabbi Shefa (through the Contact Us page) to request an application. For more information, see the Kol Zimra overview or the KZ 9 schedule.
---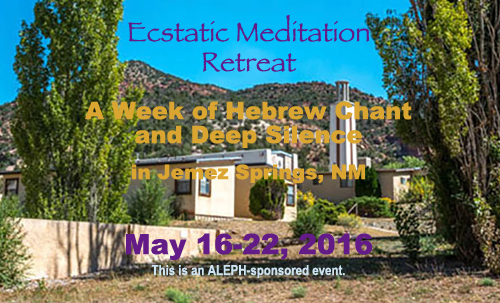 Contact ALEPH for details and to register online:
https://aleph.org/programs/ecstatic-meditation
The Jewish practice of Devekut inspires us to open to the vastness of the Infinite, while releasing the content of thought, moment to moment. During this week of chant and silence we will connect to the Divine through the Earth, Water, Fire and Air in the glorious setting of the Jemez Mountains.
---