Hebrew Chant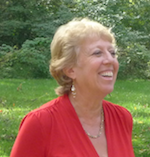 Rabbi Shefa Gold develops and leads Hebrew chants based on Jewish sacred texts for transformative spiritual growth.
With her focus on Hebrew chanting, Rabbi Shefa presents workshops based on chanting, ecstatic meditation, and Jewish subjects. Also, she is available for performing services as a rabbi. She developed and taught the Kol Zimra Chant Leaders' Training program (through ALEPH) for many years.
She has written several books (including The Magic of Hebrew Chant and Torah Journeys) and has published several CDs (such as Chantsformations and Shir Delight). See the online store for her books and CDs. Her Modah Ani chants are available on this site and through an iOS app in the App Store.
See the About page for a more complete description of Rabbi Shefa's work and what's available on this site.
Chant is the bridge between the inner life and the outer expression; between the solitary practice and the shared beauty of fellowship.
SOULIFT Video
In this YouTube video, Rabbi Shefa shares her inspiration for developing SOULIFT.

You can also view the video on YouTube.
Podcast Nov 7, 2017
Hashivenu Episode 4: Chanting
Rabbi Shefa talks about chanting in this 30-minute podcast:
Chanting podcast
High Holy Day Sermons
Rabbi Shefa was at Metivta in Santa Monica, California for the 5778 High Holy Days where she presented these HHD sermons.
Rosh Hashanah
Attention, Awareness and Devotion
Dealing with Adversity
A Meditation on Creation
Yom Kippur
Making a Tshuvah Plan
The Gift of Accountability
Upcoming Events
Institute for Jewish SpiritualityOnline Practice Intensive


Sacred Chant:
 Healing the Spirit,Transforming the Mind, Deepening Love
April 8 – May 4, 2018

For information about their online programs, see the Institute for Jewish Spirituality website or download the Sacred Chant flyer. Last day to register is April 2!
---
Ecstatic Meditation Retreat


A week of Hebrew Chant and Deep Silence
June 4-10, 2018

At the Fitzgerald Center in Jemez Springs, New Mexico
See the Schedule page, download the Ecstatic Meditation 2018 flyer, or visit the Aleph site for more information and to register online.
---
First SOULIFT Retreat


in Santa Fe, NM
August 13-19

See the Schedule page or visit the SOULIFT 2018 page for more information and a link to register online. For general information about SOULIFT, read Rabbi Shefa's article in Spirituality & Health.
---
An Elul Journey


Green River in Utah
August 22–28

See the Schedule page for more information.